Research article

Open Access
Effects of simulated daily precipitation patterns on annual plant populations depend on life stage and climatic region
Received: 08 December 2006
Accepted: 27 March 2008
Published: 27 March 2008
Abstract
Background
To improve the understanding of consequences of climate change for annual plant communities, I used a detailed, grid-based model that simulates the effect of daily rainfall variability on individual plants in five climatic regions on a gradient from 100 to 800 mm mean annual precipitation (MAP). The model explicitly considers moisture storage in the soil. I manipulated daily rainfall variability by changing the daily mean rain (DMR, rain volume on rainy days averaged across years for each day of the year) by ± 20%. At the same time I adjusted intervals appropriately between rainy days for keeping the mean annual volume constant. In factorial combination with changing DMR I also changed MAP by ± 20%.
Results
Increasing MAP generally increased water availability, establishment, and peak shoot biomass. Increasing DMR increased the time that water was continuously available to plants in the upper 15 to 30 cm of the soil (longest wet period, LWP). The effect of DMR diminished with increasing humidity of the climate. An interaction between water availability and density-dependent germination increased the establishment of seedlings in the arid region, but in the more humid regions the establishment of seedlings decreased with increasing DMR. As plants matured, competition among individuals and their productivity increased, but the size of these effects decreased with the humidity of the regions. Therefore, peak shoot biomass generally increased with increasing DMR but the effect size diminished from the semiarid to the mesic Mediterranean region. Increasing DMR reduced via LWP the annual variability of biomass in the semiarid and dry Mediterranean regions.
Conclusion
More rainstorms (greater DMR) increased the recharge of soil water reservoirs in more arid sites with consequences for germination, establishment, productivity, and population persistence. The order of magnitudes of DMR and MAP overlapped partially so that their combined effect is important for projections of climate change effects on annual vegetation.
Keywords
Seed Bank
Arid Region
Mean Annual Precipitation
Seedling Density
Rain Volume
Background
Drylands are characterized not only by low water availability but also by great variability of water supply, which play important roles in structuring ecosystems and maintaining biodiversity [1–3]. However, our knowledge about the effects of climate change on vegetation with regard to changes in daily precipitation patterns is still limited [4]. In this paper I use a simulation approach to systematically examine the effect of daily rainfall variability on the growth of annuals in the Middle East along a climatic gradient from arid to mesic Mediterranean.
Precipitation in dry climates has a high variability among and within years [5]. The distribution of annual and daily rain amounts have already changed in the 20th century and are predicted to continue changing [6]. In many Mediterranean regions the number of days in a year with heavy precipitation is increasing, whereas mean annual precipitation is decreasing [7]. For the years 2071–2100, global climate models project a regionally varying shift of both mean annual precipitation and distribution of daily rainfall intensity. For subtropical/warm-temperate regions (25–40° latitude), which include the Middle East, mean annual precipitation is projected to increase by up to 100 mm this century [8]. At the same time mean surface temperatures are projected to increase by c. 1.5°C in tropical and subtropical latitudes (0–35°, [8]). Compared to the change in water supply, the increase in temperature seems less important for plant growth in the arid and semi-arid climates within this range of latitude [4].
The effect of the temporal distribution of water availability on the growth or survival of herbaceous plants has been studied in field and pot experiments in temperate to tropical grasslands [9–13], deserts [14–16], and crops [17, 18]. In most experiments the treatments consisted of applying a fixed amount of water in either small amounts with short intervals or in large amounts with long intervals. Generally, the amounts and intervals were uniform during the duration of the experiment. Only the RaMPs project [9, 19] varied naturally occurring intervals, although by a fixed percentage. In contrast, climate models and observations suggest that changes will be stronger in the distribution of rainstorms than in the distribution of light rainfalls [7, 20]. Experiments that have examined water variability in mesic environments and most studies of crop irrigation methods found that more frequent watering increased plant growth or survival [9, 10, 14, 16, 17]. In contrast, studies [13, 16, 18, 21] and simulations [15] related to arid environments show that longer intervals between water pulses can have positive effects when rain pattern and the water holding capacity of the soil interact to produce a longer-lasting soil water reservoir [11, 18, 22]. The interaction between rainfall variability, soil texture, and water recharge has been described qualitatively by Noy-Meir as the 'inverse texture effect' [1], but the effect of different rain patterns on plant growth in arid and mesic regions has not been studied and quantified yet.
Process-based models represent a good way for studying the presumed causes of the effects of precipitation patterns in greater detail, resolving apparently contradictory effects, and projecting consequences of climate change [4]. Models can be used to vary systematically and in combination characteristics of rain patterns, soil properties, and plant functional types, which would otherwise be hard to achieve logistically or technically in experiments. For example, simulations for North-American deserts have indicated that soil texture, the context of rain events regarding antecedent soil moisture, and the clustering of rain events are important factors controlling plant growth [15].
I use a process-based model (Fig.
1
) to quantify the effect of different daily rainfall distributions and compare it to the effect of a change in mean annual amount on vegetation. The model simulates explicitly the response of soil moisture and individual plants to rainfall variability. In addition, I consider the effects on different life stages and spatial interactions (competition, dispersal). The model simulates vegetation in the Mediterranean region, situated between water-stressed subtropical and mesic temperate regions. Therefore, the region may be particularly sensitive to climate change effects [
23
]. Earlier models addressing precipitation effects on Mediterranean vegetation focused on shrubs and trees in the western Mediterranean region [
24
,
25
] but did not systematically consider the effect of daily within-year rainfall variability. Annual plants are the dominant or co-dominant life form at lower elevations in the eastern Mediterranean. Furthermore, annuals may respond more directly to water variability than perennials given the annuals' shallower and less plastic root system [
26
,
27
]. My model is the first to systematically examine the effect of projected changes in daily rain pattern on natural vegetation along a climatic gradient from arid to mesic. Hence, the sensitivity of different climatic regions to daily rain patterns can be compared explicitly. The gradient is also used by complementary field studies [
28
–
30
], which provided the opportunity to combine simulations with field experiments for parameterization and validation of the model [
31
]. The present study provides a comprehensive examination of net precipitation effects on representative annual communities by investigating soil processes, plant germination, growth, and seed bank dynamics in five climatic regions.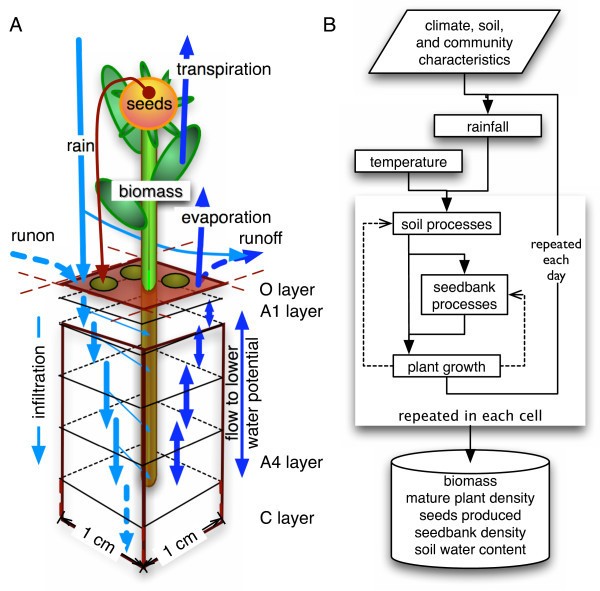 Results
I assessed the importance of intra-annual rainfall distribution on soil moisture, seedling density, peak shoot mass, and population persistence by varying independently the amplitude of daily mean rain volume (DMR) and the mean annual precipitation (MAP) and comparing their relative effects. DMR and MAP were varied from -20% to +20% relative to current conditions. Daily and thus annual rain amounts were simulated as stochastic time series with specified means. I used relative changes in order to make the effects of DMR and MAP comparable and because my analysis of projections of regional climate models indicated that these factors change relative to the present value. Therefore, results are preferably expressed with regard to the relative change of DMR and MAP. The comparison of effects was conducted for one site in each of five regions (AR, SA, DM, TM, MM) along a climatic gradient in the interior of Israel (Tab.
1
). One soil type and one artificial species with representative characteristics to match overall community structure per site were used in the simulations (Additional file
1
: ParametersSoil.pdf, Additional file
2
: ParametersSeedBank.pdf, Additional file
3
: ParametersPlants.pdf). Artificial species differed only in few characteristics (soil moisture required for germination, permanent wilting point, minimum mass for reproduction) to facilitate comparisons. Each site was represented by a grid of 25 × 25 1-cm
2
cells (Fig.
1A
).
Table 1
Standard climate parameters used in the model.
| Climatic region | MAP (mm) | Ta(°C) | r(K) |
| --- | --- | --- | --- |
| arid, AR | 100 | 20.5 | ± 6.5 |
| semi-arid, SA | 300 | 20.0 | ± 7.0 |
| dry Mediterranean, DM | 450 | 19.5 | ± 7.0 |
| typical Mediterranean, TM | 600 | 19.0 | ± 7.0 |
| mesic Mediterranean, MM | 800 | 20.5 | ± 7.5 |
Discussion
I simulated the change of stochastic daily rain patterns by increasing the seasonal amplitude of daily mean rain volume (DMR) matched by a decrease in the seasonal occurrence of rainy days so that the mean annual volume remained unchanged. As a result of the increase of DMR, heavy rainfalls contributed more and light rainfalls less to annual precipitation than under current conditions.
Conclusion
Among the populations along the humidity gradient from arid to mesic Mediterranean those in the semi-arid and dry Mediterranean regions were the most sensitive to relative changes in annual precipitation. Changes to daily rain patterns had marked effects on community biomass in more arid regions through the amount of water stored in the soil. The same amount of annual precipitation distributed as sparser, heavier rainfall events recharged the soil water storage in the upper 15–30 cm more effectively than frequent, light rainfall events. Water recharge was increased by a high sand content that increased infiltration rates and reduced hydraulic conductivity in dried out surface layers. In mesic regions changes to daily rain patterns had small or no effects, because the soil remained moist enough between rain events to sustain growth. The effects of daily rain pattern were smaller but of the same order of magnitude as changes to mean annual precipitation. Therefore, these effects should be included in assessments of climate change.
Methods
Reference sites
The standard model parameters refer to four experimental sites along a 245-km gradient of humidity in Israel: an arid (AR) site near Sedé Boqér (N 30°52' E 34°46', 470 m a.s.l., 90 mm MAP), a semi-arid (SA) site near Lahav (N 31°23' E 34°54', 590 m a.s.l., 300 mm MAP), a "typical" Mediterranean (TM) site near Matta' (N 31°42' E 35°3', 620 m a.s.l., 540 mm MAP), and a mesic Mediterranean (MM) site near 'En Ya'aqov (N 33°0' E 35°14', 500 m a.s.l., 780 mm MAP). Details of rain fall frequency and distribution at nearby climate stations can be found in Additional file 5: ClimateStations.pdf. The soil types range from sandy loam at the AR site to loam at SA and clay at the MM and TM sites (Sarah Pariente, pers. comm.). Mean annual temperatures vary between 19°C and 21°C. Shrub cover increases along the gradient from <5% (AR) to about 80% (MM). Space between shrubs is covered mostly by annuals, while the percentage of bare ground decreases from about 95% to about 5% along the gradient. The vegetation and experimental setup at the sites are described in greater detail by Holzapfel et al. [28].
The four experimental sites are spread more or less evenly along the humidity gradient with a gap between the SA and TM site. Therefore, I used a hypothetical "dry Mediterranean" site (DM) with interpolated site characteristics in the simulations.
Model summary
The model (version 2.6.0; Additional file 6: AnnualsModelSourceCode.zip) simulates the effect of rainfall variability on soil moisture and annual vegetation. The model is spatially explicit [65] because it includes the competitive interactions among individual neighbouring annual plants and uses principles of cellular automata models. The model's spatial extent is a soil surface of 25 cm × 25 cm per simulated site, divided into 1-cm2 cells representing soil columns (Fig. 1A). Each soil column contains a seed bank and space for one plant to reach maturity. The model consists of four modules describing the dynamics of climate, soil, seed bank, and plants (Fig. 1B).
I used five parameter sets to represent the different climates, soils, and plant communities in the five modelled climatic regions (Tab. 1; Additional file 1: ParametersSoil.pdf, Additional file 2: ParametersSeedBank.pdf, Additional file 3: ParametersPlants.pdf). The parameters were determined from experiments at each field site, greenhouse experiments, and published data or by choosing values that reproduced field data (for details see Detailed model description, below). All modelled processes are defined by physical or logical rules for time steps of one day, except for seed dispersal and seed bank mortality, which are evaluated in annual time steps.
The climate module (for details see Detailed model description – Climate module, below) determines daily temperature and precipitation, which are equally distributed in the grid. Temperature is calculated deterministically by a cosine function. Daily values do not vary among years. In contrast, rainfall is generated stochastically by the ReGen algorithm [20] (see below: Precipitation scenarios).
The soil module (for details see Detailed model description – Soil module, below) simulates water infiltration along a slope. A part of the surface water infiltrates into a soil column that consists of one organic (O) layer and four mineral (A) layers. In the simulations excess rain (runoff) was removed from the grid because I was interested in the direct effect of rainfall volume on each cell and similar moisture conditions across the grid. Water is lost to the atmosphere by evapotranspiration. Soil characteristics like hydraulic conductivity, field capacity, residual (minimum) water content, and the parameters of the soil moisture retention curve [66] are kept constant during simulations and are the same for each layer. Infiltration coefficients decrease with soil moisture and increase with vegetation cover.
The seed bank module (for details see Detailed model description – Seed bank module, below) simulates granivory, seed bank mortality, and germination. Before dispersed seeds enter the seed bank, a portion of the seeds in the seed bank dies because of decay, burial, or other causes. A portion of dispersed seeds is eaten before they enter the seed bank if their density is higher than the giving-up density of granivores. I implemented seasonal seed dormancy as an inverse U-shaped function. Germination of germinable seeds is determined by a hydrothermal time approach [41, 67] that incorporates the average soil moisture and temperature before germination. The actual germination fraction is further controlled by the local density of seeds [42, 43].
The plant module (for details see Detailed model description – Plant module, below) simulates the growth of individual annual plants. Plant growth is sigmoid, defined by maximum mass and maximum growth rate. The actual growth rate depends on temperature, water availability, the species' permanent wilting point (PWP), and net size-asymmetric competition [68] with neighbours within a radius of up to 2.5 cm. A fixed portion of produced biomass is allocated to reproduction and converted to seeds when the plant dies. Plant mortality is caused by lack of water. Seeds are dispersed with a negative exponential distribution, i.e., the likelihood to disperse farther from the mother plant decreases with distance.
The simulation of soil moisture dynamics and vegetation production by the model was validated by comparison with independent data that were not used to parameterize the model (for details see Additional file 7: Validation.pdf). The sensitivity of the model to changes of the model parameters was tested separately for the abiotic and biotic modules (see Additional file 8: SensitivityAnalyses.pdf).
My model does not take into account increasing annual mean temperatures, CO2 concentrations or nitrogen deposition from the atmosphere. A multi-factorial field experiment including these factors and precipitation in an annual grassland showed that interactions among these factors become rare over time and nitrogen deposition produced the strongest effect [69]. Nonetheless, in the long-term, aboveground production of herbaceous arid communities is most strongly correlated with annual precipitation [70], which is also shown by the tight correlation of community biomass with annual precipitation along the climate gradient (see Validation, below).
Precipitation scenarios
I varied the distribution of volume and frequency of daily rainfall for five sets of nominal mean annual precipitation (100, 300, 450, 600, and 800 mm – corresponding roughly to the mean annual precipitation of the field sites) to investigate the effect of the daily rain pattern on the longest wet period (LWP), seedling density, and peak shoot mass of populations of annual plants. The change of daily rain pattern was achieved by increasing the seasonal amplitude of daily mean rain volume (DMR) by -20%, -10%, 0%, 10%, and 20% in the ReGen time series generator [20]. Increasing DMR prolongs intervals between rains, reduces the contribution of days with light rains and increases the contribution of rainstorms to the annual rain volume [20]. In order to compare the magnitude of this treatment, I also varied the mean annual precipitation volume (MAP) by -20%, -10%, 0%, 10%, and 20% in factorial combination with DMR. I used relative instead of absolute changes of precipitation parameters because regional climate models indicate that the changes will be tightly correlated with current values and that relative changes are remarkably constant along the precipitation gradient (M. Köchy, unpublished results). For example, the RegCM3 circulation model projects for the pessimistic A2 climate change scenario an average increase of DMR by 3% and a decrease of MAP by 13% for 2070–2100 for Israel North of the Negev desert, whereas the optimistic B2 scenario results in an average increase of DMR by 27% and an increase of MAP by 12% between 31° and 33° N (calculations based on [56–58]).
Seed bank scenarios
For the assessment of rain pattern effects on LWP, seedling density, and peak biomass, seed bank density in each region was reset to a constant value at the beginning of each vegetation year (AR: 2000, SA: 16000, DM: 17000, TM: 18000, MM: 20000 seeds/m2 corresponding to typical values observed in the field). This constant-seed bank scenario facilitates comparisons among years because carry-over effects of seed bank density due to wet and dry years and mortality are excluded. In a second set of simulations I examined the effect of change of daily rain pattern on population persistence. For population persistence inter-annual seed bank dynamics carry-over effects are important and were included (dynamic-seed bank scenario). To quantify community persistence I recorded the year in which the seed bank had dropped to zero or whether the population survived for the total simulated period.
Statistical analyses
I simulated 30 years of stochastic rainfall for each combination of levels of DMR and MAP in each climatic region and both seed bank scenarios. This was repeated five times for each combination. I used different random spatial distributions of soil surface heterogeneity in each simulation run. The great detail simulated by the model prevented me from storing daily data and only annual data across the whole lattice was recorded. Therefore, I sometimes phrase interpretations of results cautiously where omniscience of causality in the model could be expected. Among the many vegetation and soil variables simulated by the model, I concentrated on formally analyzing the effect of rain pattern on annual longest wet period (LWP), seedling density, and peak shoot mass (maximum annual aboveground biomass) because each is an integrative measure of, respectively, available soil moisture, establishment, and community performance. The effect of daily rain pattern on LWP, seedling density, and peak shoot mass for the constant-seed bank scenario was examined with analyses of covariance (ANCOVA) across regions. The full-factorial ANCOVA used change of DMR and change of MAP as covariates and regions as a nominal factor. As the data were very heteroscedastic, I used the means across years for each combination of daily pattern × mean annual precipitation × climatic region × repetition. Slopes and means were compared post-hoc using 95% confidence intervals. In addition, I calculated the change of peak shoot mass per 10% change of DMR and per 10% change of MAP to facilitate the comparison of effect sizes.
In the dynamic-seed bank scenario few populations persisted for the total simulation time (30 yr) in the arid region in contrast to the more humid regions. Therefore, an ANCOVA of persistence comprising all sites as for the constant seed bank scenario was not meaningful and I analyzed the arid region only. This turned the ANCOVA for the arid region into a multiple regression. For the other four regions, where time of persistence was almost always the full 30 years of the simulation runs, I compared the coefficient of variation of annual rain volume, longest wet period, and peak shoot mass using an ANCOVA to test how changes in rain pattern affected environmental and production variability. In addition I tested whether the CVs were correlated.
Detailed model description
Declarations
Acknowledgements
I thank Irit Konsens, Hadas Parag, Marcelo Sternberg, Cristina Cardiel, Martina Petrů, Eyal Sachs, Claus Holzapfel, Sara Pariente, Hanoch Lavee, Jaime Kigel, and Katja Tielbörger for measuring, collecting, processing, and sharing field data. They also discussed with us the model outputs and helped refining model rules. I appreciate critical comments on the manuscript by the members of the Plant Ecology and Nature Conservation section at Potsdam University, especially Florian Jeltsch, Monika Schwager, Frank Schurr, Britta Tietjen, and Richard Walters, and by four anonymous reviewers. This study is part of the GLOWA Jordan River project financed by the German Federal Ministry of Science and Education (BMBF), contract 01LW0306(A). The author alone is responsible for the content of this publication.
Authors' Affiliations
(1)
Research Group Plant Ecology and Nature Conservation, University of Potsdam, Potsdam, Germany
Copyright
© Köchy; licensee BioMed Central Ltd. 2008
This article is published under license to BioMed Central Ltd. This is an Open Access article distributed under the terms of the Creative Commons Attribution License (http://creativecommons.org/licenses/by/2.0), which permits unrestricted use, distribution, and reproduction in any medium, provided the original work is properly cited.