BMC Ecologyimage competition 2014: the winning images
Received: 18 July 2014
Accepted: 21 July 2014
Published: 29 August 2014
Abstract
BMC Ecology showcases the winning entries from its second Ecology Image Competition. More than 300 individual images were submitted from an international array of research scientists, depicting life on every continent on earth. The journal's Editorial Board and guest judge Caspar Henderson outline why their winning selections demonstrated high levels of technical skill and aesthetic sense in depicting the science of ecology, and we also highlight a small selection of highly commended images that we simply couldn't let you miss out on.
Editorial
"There is grandeur in this view of life" [1]. This snippet from On the Origin of Species is taken from the famous passage where Darwin expresses his own wonder at the variety of life on earth, stating "from so simple a beginning endless forms most beautiful and most wonderful have been, and are being, evolved".
Although this phrase is more commonly associated with the field of evolution than ecology, the two are undoubtedly intertwined. Perhaps a better quotation could have been taken from earlier in this same passage where he describes a "tangled bank" of interacting species. Yet, the proximity of these two ideas in this part of the book speaks a lot about their connectedness.
No discussion about our relationship with the natural world would be complete without a passing nod to Darwin, and the brief sentence above encapsulates nicely how a holistic perspective on ecological processes can elevate the study of natural history into something grand.
This was, in part, our motivation for launching the first BMC Ecology image competition in July 2012 [2]. By opening up a perspective on the science of ecology to every researcher on the planet, we hoped to capture a grand perspective of life on earth, its interconnectedness, and its wonder. We hope that, in some small part, we approximated this last year, and we hope to have built on this again.
For this year's competition, we are very pleased to have writer and journalist Caspar Henderson act as guest judge to choose an overall winner, runner-up and some highly commended images amongst the incredible selection submitted. Caspar has written extensively on a number of scientific and environmental issues, and was most recently shortlisted for the Royal Society Winton Prize for Science Books for his Book of Barely Imagined Beings: A 21st Century Bestiary[3]. He is now working on A New Map of Wonders.
His nominated charity of choice for this year is Trees for Life [4], a foundation established in 1989 with the aim of restoring Scotland's ancient Caledonian Forest. The ultimate aim of the charity is to raise enough money to restore a region of 1,000 square miles of mountains and glens with re-wilding of native flora and fauna. Currently an area that has suffered much environmental degradation, the project aims to restore native woodland cover and eventually wildlife including wild boars (Sus scrofa) and beavers (Castor fiber).
As well as our guest judge, the Editorial Board of BMC Ecology were also on hand to pick their favourite category winners for each section, blinded to the identity of each entrant. More than 300 individual images were submitted to the competition this year, depicting some form of ecological interaction from every continent on earth.
We hope you enjoy them.
Winning images
"How have all [the] exquisite adaptations of one part of the organisation to another part, and to the conditions of life, and of one distinct organic being to another being, been perfected?" So asked Charles Darwin in 1859, articulating one of the central questions of ecology half a dozen years before the term was even coined. How could such "beautiful co-adaptations" have arisen in every part of the organic world?
Darwin's answer, subtle and complex, helped make the discipline of ecology possible. And for more than 150 years those who call themselves ecologists have been unpicking astonishing complexity and pattern within living systems. There may be (in the timeworn and not always helpful phrase) a "struggle for existence" in the living world; but there is also so much more. In its stupendous productivity and capability to generate variation, Life presents a spectacle for which a description coined by Pliny the Elder more than 1800 years before Darwin is no less apt: "the great variety of nature at play" [5].
All those who have taken part in this competition have produced work that contributes to a great tradition of enquiry and analysis that is contemporary ecology. The best work often shows that new phenomena - sometimes startling, sometimes beautiful and sometimes both - are always there to be found with the keenest eye, the sharpest act of attention. At a time of exceptionally rapid change to the non-human systems upon which all life depends, such work was never more important, and shows that while we may have great cause for concern, there is also no end to marvels.
So congratulations to the winner Petra Wester and runner-up Letizia Campioni, and all those whose photographs are highly commended. Your work shows particularly high levels technical skill in photography and/or aesthetic sense (and often both), as well as illuminating fascinating and diverse questions. But well done all who took part. This world is not all about winning competitions. We are all hear to wonder, and learn.
Overall winner
Petra Wester (Institute of Sensory Ecology, Heinrich-Heine-University Düsseldorf, Germany) (Figure
1
):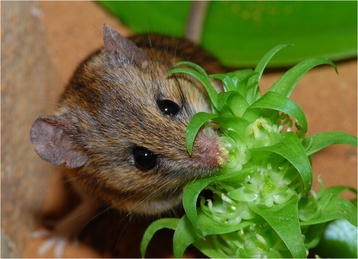 At first glance, this image of a Namaqua rock mouse (Aethomys namaquensis, Muridae) getting dusted with pollen of the Pagoda Lily (Whiteheadia bifolia, Hyacinthaceae) might not appear to be particularly striking. But this is an image that is much more than it at first appears. In contrast to last year's winning image, of an evolutionary adaptation driven by the avoidance of death, this year's winner offers a fascinating window into a highly unusual evolutionary game in which mutual benefits aid the struggle for survival and reproduction. We tend to think of insects, and occasionally birds, when we think of pollination ecology, and this winning image therefore serves as a reminder of the variety of different ways in which nature can converge on the "beautiful co-adaptations" that so fascinated Darwin:
"The picture was taken at night during a study of the pollination ecology of the Pagoda Lily. For the first time nocturnal rodent pollination was observed and photographed under natural conditions in the Northern Cederberg area of South Africa. Field studies and experiments showed that the flowers of Whiteheadia bifolia are visited at night by Namaqua rock mice. The mice were observed licking the extremely viscous nectar while being dusted with pollen around the snout and touching the stigmas of the flowers without destroying them. W. bifolia has characters of the rare rodent pollination floral syndrome such as visually inconspicuous, bowl-shaped flowers near the ground, stiff stamens, easily accessible nectar and a weak nutty scent. No other visitors were observed during the day or night."
Overall runner-up
Letizia Campioni (Eco-Ethology Research Unit, ISPA, Portugal) (Figure
2
):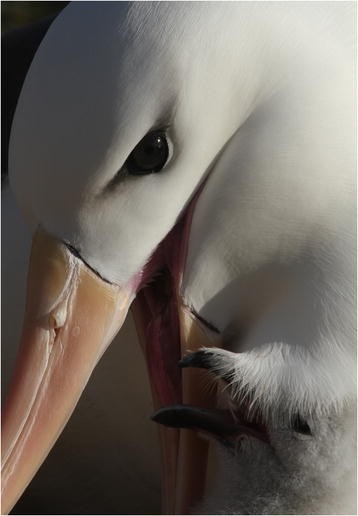 Parental care is at the heart of this wonderful portrait of an adult Black-browed albatross (Thelassarche melanophrys) feeding its chick. Offspring rearing comes in many guises in the animal kingdom, defined by a complex interplay of trade-offs between investment and return. Many arthropods, for example, produce a huge abundance of offspring, left to fend for themselves from the point of birth in the hope that some will survive. In stark contrast, long-lived animals such as albatross—who often live to around 70 years of age—invest heavily in the survival of a single chick each year, regurgitating food until they are ready to fledge. The gorgeous detail of this image also serves to highlight fascinating adaptations to life foraging on the wing – the pronounced nostril, or naricorn, that guides saline solution from the salt gland, and the tooth-like structures at the base of the bill—all features for survival in a maritime environment. Although currently not endangered, ever declining populations of these majestic creatures is a cause for concern, particularly in light of evidence that human practices may partly be to blame [6]. The work of ecologists like Letizia Campioni in monitoring and understanding these populations can therefore not be underestimated:
"My field of research is focused on the study of long-lived pelagic seabirds. Specifically I am working on Black-browed albatross (Thelassarche melanophrys) nesting in dense colonies on New Island (North-west Falkland I.). One aim of my work is monitoring the demography of Black-browed albatross populations. Our objective is to follow the whole population during the different phases of the breeding season, recording breeding pair success and fledgling success."
Declarations
Acknowledgements
We were genuinely overwhelmed with the variety and quality of submissions to this year's competition, and we are immensely grateful to everyone that chose to get involved and share their wonderful work with us. A huge amount of support has been provided to ensure that the competition remained a success in its second year, and SH would like to personally thank everyone at BioMed Central who has continued to support and promote it in 2014—most especially Samantha Kaye, Laura Wills, Genevieve Horne, Elizabeth Moylan, Deborah Kahn, Ruth Francis, Anna Perman, James Balm, Kam Marwaha and Ruth Baker. The competition would also not have been nearly as much fun without the shared enthusiasm of Alice Murray and Pippa Harris.
Authors' Affiliations
(1)
BioMed Central, London, UK
(2)
Twitter: @, casparhenderson, UK
(3)
Institut de Systématique, Evolution et Biodiversité, Muséum National d'Histoire Naturelle (MNHN), UMR 7205, Paris, France
(4)
Dept of Zoology, University of Oxford, Oxford, UK
(5)
Department of Entomology and Department of Biology, Center for Infectious Disease Dynamics, Pennsylvania State University, University Park, State College, USA
(6)
Department of Community Ecology, Helmholtz Centre for Environmental Research-UFZ, Halle, Germany
(7)
iDiv, German Centre for Integrative Biodiversity Research, Halle-Jena-Leipzig, Leipzig, Germany
Copyright
© Harold et al., licensee BioMed Central Ltd. 2014
This article is published under license to BioMed Central Ltd. This is an Open Access article distributed under the terms of the Creative Commons Attribution License (http://creativecommons.org/licenses/by/4.0), which permits unrestricted use, distribution, and reproduction in any medium, provided the original work is properly credited. The Creative Commons Public Domain Dedication waiver (http://creativecommons.org/publicdomain/zero/1.0/) applies to the data made available in this article, unless otherwise stated.