Research article

Open Access
Insights into biodiversity sampling strategies for freshwater microinvertebrate faunas through bioblitz campaigns and DNA barcoding
Received: 13 December 2012
Accepted: 14 March 2013
Published: 4 April 2013
Abstract
Background
Biodiversity surveys have long depended on traditional methods of taxonomy to inform sampling protocols and to determine when a representative sample of a given species pool of interest has been obtained. Questions remain as to how to design appropriate sampling efforts to accurately estimate total biodiversity. Here we consider the biodiversity of freshwater ostracods (crustacean class Ostracoda) from the region of Churchill, Manitoba, Canada. Through an analysis of observed species richness and complementarity, accumulation curves, and richness estimators, we conduct an a posteriori analysis of five bioblitz-style collection strategies that differed in terms of total duration, number of sites, protocol flexibility to heterogeneous habitats, sorting of specimens for analysis, and primary purpose of collection. We used DNA barcoding to group specimens into molecular operational taxonomic units for comparison.
Results
Forty-eight provisional species were identified through genetic divergences, up from the 30 species previously known and documented in literature from the Churchill region. We found differential sampling efficiency among the five strategies, with liberal sorting of specimens for molecular analysis, protocol flexibility (and particularly a focus on covering diverse microhabitats), and a taxon-specific focus to collection having strong influences on garnering more accurate species richness estimates.
Conclusions
Our findings have implications for the successful design of future biodiversity surveys and citizen-science collection projects, which are becoming increasingly popular and have been shown to produce reliable results for a variety of taxa despite relying on largely untrained collectors. We propose that efficiency of biodiversity surveys can be increased by non-experts deliberately selecting diverse microhabitats; by conducting two rounds of molecular analysis, with the numbers of samples processed during round two informed by the singleton prevalence during round one; and by having sub-teams (even if all non-experts) focus on select taxa. Our study also provides new insights into subarctic diversity of freshwater Ostracoda and contributes to the broader "Barcoding Biotas" campaign at Churchill. Finally, we comment on the associated implications and future research directions for community ecology analyses and biodiversity surveys through DNA barcoding, which we show here to be an efficient technique enabling rapid biodiversity quantification in understudied taxa.
Keywords
Ostracoda
Crustacea
Barcoding biotas
Sampling strategy
Bioblitz
Citizen science
Species richness
Zooplankton
Accumulation curves
Subarctic
Background
One of the biggest impediments to conducting large-scale biodiversity surveys lies in the taxonomic identification of target organisms. This is especially true when dealing with microinvertebrates, where defining morphological features are often discernible only through intensive methods such as slide preparation and microscopy. One group of organisms that exemplifies this dilemma is the small-bodied crustacean class Ostracoda. Ostracods are very common in benthic freshwater communities, but also occur in marine, intertidal, or semi-terrestrial environments. They are useful model organisms for studies on various aspects of ecology and evolution [1–5], given the high prevalence of their calcified bivalve shells in the freshwater fossil record as well as their variability in breeding systems [6, 7]. In freshwater systems alone, the class Ostracoda has been conservatively estimated to number close to 2,000 described species [8], with 420 freshwater species recorded for North America [9, 10]. Taxonomic keys are available to the species level for North America and Europe [10–13], and many surveys describe the regional diversity of the class (e.g. [14–20]). The projected global diversity in all habitat types is estimated to be approximately 13,000 [9].
An infrequently discussed challenge in conducting biodiversity surveys is how to design and implement a suitable sampling strategy. While many studies have compared the efficacy of various field collection methods for capturing accurate estimates of planktonic invertebrate community structure [21–29], there has been little discussion of the idea of sampling strategy as a whole in terms of study objectives, sampling instrumentation, time commitments, adaptation of field methods in response to environmental heterogeneity, and sorting of samples prior to identification both in the field and in the laboratory. Given that the sample size of microinvertebrate community analyses is always much greater than the resources available to identify each individual organism to the appropriate taxonomic level, this sorting of organisms representing the sample community is of utmost importance. Previous studies have demonstrated the presence of cryptic species in microinvertebrates [30–32], and highlight the potential to overlook species with cryptic morphology as well as those with low abundance [33].
Establishing timeframes for microinvertebrate surveys can be linked to many different factors such as limited funding associated with fieldwork, appropriate weather windows for collection, and the availability of trained personnel. These limitations are especially applicable to studies conducted in remote locations, as well as areas of intense seasonality. Conducting fieldwork in these regions should be made as efficient as possible not only to limit associated costs, but to limit human interference on the natural system. Furthermore, while there is discussion in the literature on appropriate standards for comparing sampling strategies for freshwater bodies of various size and habitat diversity [23, 29], there is less discussion on the rationale behind intensive sampling. This is a key point as more scientists participate in public research, and more research projects involve an aspect of citizen science.
Citizen science involves collaboration between scientists and volunteers to gather field and observational data [34], and several studies have found that these types of collaborations produce reliable data that would be difficult to gather by any individual research group or scientist [35, 36]. For biodiversity studies, citizen science projects often encompass large-scale "bioblitzes" that involve collecting a large number of organisms in a short time period, often as short as a few hours (e.g. http://www.get-to-know.org/bioblitz/). Originally coined in 1996 by Susan Rudy of the U.S. National Park Service, the term bioblitz is now widely employed, with citizen-science bioblitzes recorded in countries such as Canada, New Zealand, Portugal, and Taiwan. The results of bioblitzes are typically not published in the scientific literature, despite their widespread occurrence and potential for inclusion [37]. This may be changing, as demonstrated by the August 2012 issue of Frontiers in Ecology and the Environment, a special issue dedicated to the publishing of citizen-science research. For these sampling campaigns to remain an effective and efficient use of citizen-scientist collaborations, sampling strategies and specific objectives that may be served by these efforts should be discussed and evaluated. Here, we quantify and compare the outcomes of different student bioblitzes within the Churchill barcoding biotas campaign to measure collection effort in relation to biodiversity yield.
For animals, DNA barcoding using a region of the mitochondrial gene cytochrome c oxidase subunit I (COI) is an increasingly common method both for identifying species and for quantifying provisional species diversity [38–41], and can be used to evaluate and compare sampling strategies for biodiversity surveys. Through separating a sample of organisms into molecular operational taxonomic units (MOTUs), it is possible to calculate provisional species richness without the need for morphology-based identifications. DNA barcoding has been previously employed to build accumulation curves for understudied taxa such as parasitoid wasps (Ichneumonidae, Braconidae, Cynipidae and Diapriidae), with barcode-based accumulation curves indicating higher diversity, but the same shape, than accumulation curves built using morphospecies [42]. While Linnean identifications are useful for community ecology studies, due to the possibility of linking with environmental data, the rapid quantification of biodiversity lends itself nicely to answering questions of species richness, species assemblage patterns, and sampling strategy comparison. As the reference library for the Barcode of Life Data Systems (BOLD) [43] grows, more of these unknown MOTUs will be linked to known species and allow for more sophisticated community ecology questions to be asked.
We employed DNA barcoding to compare five sampling strategies of subarctic freshwater ostracods in Churchill, Manitoba, Canada from 2007–2011, using MOTUs as surrogates for species. The present study does not test the effectiveness of DNA barcoding in recovering species boundaries for this group; rather, we use DNA barcoding as a tool to address our main study objective. We assume here that genetic patterns in the freshwater Ostracoda of Churchill mirror those of other microcrustaceans. For example, studies of the Branchiopoda of Churchill [31], freshwater microcrustaceans of Mexico and Guatemala [44], and marine zooplanktonic ostracods [45] have shown strong separation of described species based upon DNA barcodes.
This study presents an a posteriori analysis evaluating the success of five sampling strategies in both capturing and estimating the regional diversity of freshwater ostracods in the Churchill region, as this site was selected for an intensive "barcoding biotas" regional biodiversity survey employing DNA barcoding methods (introduced in [46]). Methodological differences among the sampling strategies prevent analysis into the effect of individual variables on strategy success, but still allow for broad-scale exploration of factors influencing the success of collection events at the scale of bioblitzes. The strategies differed in their primary objectives, duration of time spent sampling, number of sites sampled, and method of sorting of samples prior to analysis and deciding which samples to submit for DNA barcoding analysis. It was predicted that our comparison of these strategies would reveal differences in their effectiveness, yielding useful information for the design of future microinvertebrate surveys, with an emphasis on student or citizen bioblitzes. Previous studies [21–29] have compared sampling methods (e.g. tow nets, D-nets, hand nets) but did not use the same methods to measure or compare sampling effectiveness. By contrast, our study provides evidence that the rationale behind a sampling strategy is as important as the equipment used during bioblitzes (especially those with non-expert volunteers). We suggest that a focus on sampling diverse microhabitats is effective and that having two rounds of specimen selection for DNA barcoding will increase efficiency of molecular resource use for quantifying species diversity.
Results
We produced DNA barcodes for 498 individual Ostracoda, from an initial sample pool of 752 individuals selected for molecular analysis. This represented a sequencing success rate of 66.2%, which varied between 54% and 87% among the five strategies (Table
2
). While we employed a cut-off of 200 base pairs for inclusion in this analysis, most sequences (97.4%) were >400 bp. We obtained 13 additional sequences >400 bp, but these were removed due to the presence of >2% ambiguous nucleotides (Ns).
Table 2
Summary of the primers used in each project and sequencing success rates
| Project | Primary primers | Secondary primers | Number of specimens | Success rate (%) | Number of specimens >200 bp with <2% Ns |
| --- | --- | --- | --- | --- | --- |
| CHUBL | LCO1490_t1/HCO2198_t1 | None | 94 | 87% | 78 |
| SAOST | LCO1490_t1/HCO2198_t1 | LCO1490_t1/MLepR1; MLepF1/HCO2198_t1a | 95 | 83% | 79 |
| COCSA | LCO1490_t1/HCO2198_t1 | CrustDF1/CrustDR1 | 190 | 65% | 124 |
| OZFWZb | C_LepFolF/C_LepFolR | ZplankF1_t1/ZplankR1_t1 | 90 | 70% | 63 |
| OZFWC – Plates 1 and 2b | ZplankF1_t1/ZplankR1_t1 | C_LepFolF/C_LepFolR | 70 | 34% | 24 |
| OZFWC – Plates 3 and 4b | LCO1490_t1/HCO2198_t1 | C_LepFolF/C_LepFolR | 49 | 37% | 18 |
| OZFWC – Plates 5-9b | C_LepFolF/C_LepFolR | ZplankF1_t1/ZplankR1_t1 | 164 | 68% | 112 |
| Combined | | | 752 | 66.2% | 498 |
We identified 48 genetic clusters of Ostracoda in the Churchill region from 2007 to 2011 (Figure
1
), most of which were genetically differentiated from one another and well supported. The majority of the clusters that contained multiple individuals (35 of 38) were supported by high bootstrap values of >95%. Based upon sequences of at least 500 bp, maximum K2P distances within MOTUs ranged from 0–4.1%, with the mean of these maxima being 0.8%. All but four MOTUs had intra-MOTU maxima below 2%, and only 1 was above 2.6%. By contrast, inter-MOTU distances to the nearest neighbouring sequence of a different species ranged from 0.7-24.6%, with the mean being 12.3%. All but one of the nearest neighbour distances were >2.5%, with the exception involving a single poorly resolved MOTU pair having <70% bootstrap support for each cluster (MOTUs 020 and 048; Figure
1
). This pair had an average distance of 1.9% between the two clusters, although some pairwise divergences were <2%.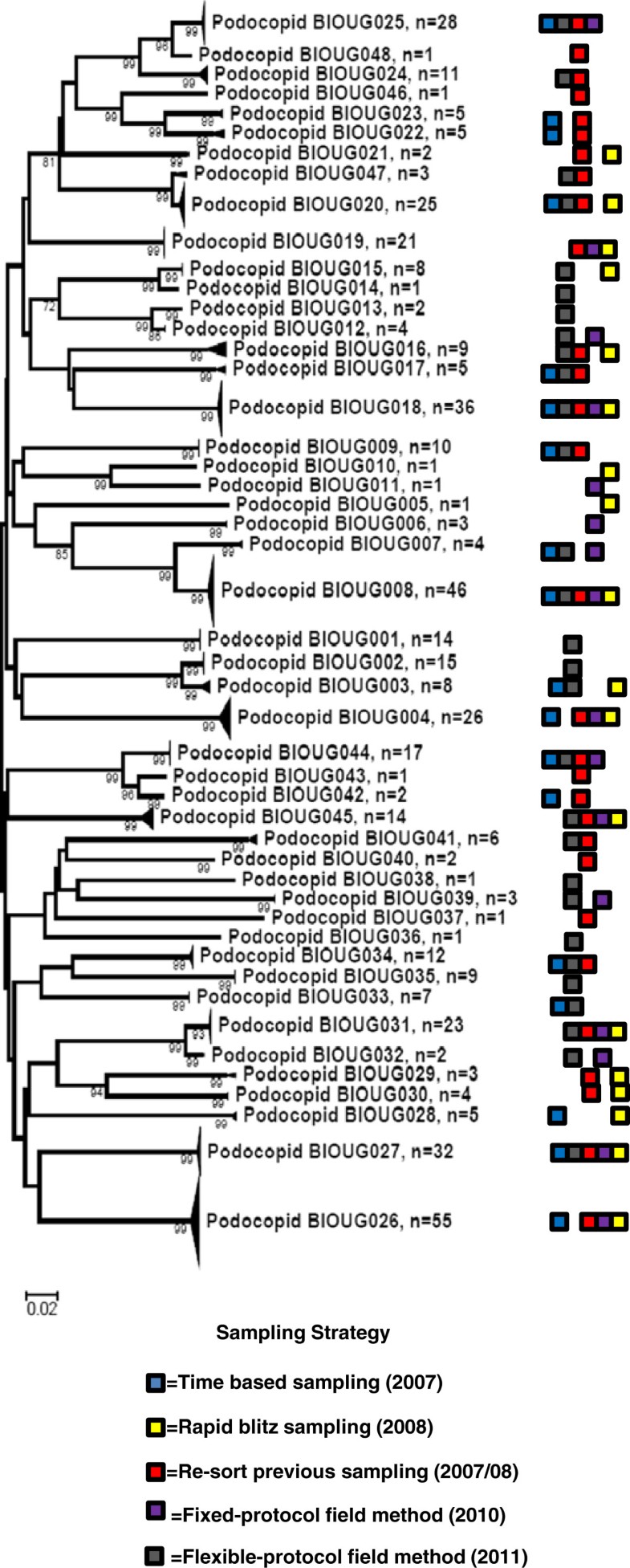 Conclusion
While the main objective of this study was not to produce rigid rules for ostracod sampling programs conducted by non-experts, we nonetheless think that our findings have a place in current biodiversity science and the design of biodiversity sampling programs. By considering our findings, we hope that freshwater ecologists, and particularly those who engage in large-scale citizen science, can develop a set of best practices for these types of surveys and also recognize the utility of incorporating DNA barcoding into these programs. We found that sampling strategy had a substantial impact on species richness estimates of biodiversity surveys for a freshwater microinvertebrate fauna. Accumulation curves may approach an asymptote indicating completeness of sampling, but this can be attributed to artifacts of a sampling strategy limited not in scope but in methodological considerations. In our study, sampling strategies that were flexible in nature yielded higher species richness estimates than non-flexible sampling strategies, though consideration should be given to the benefits of a fixed-collection protocol in terms of comparative ecological analyses. We found that increasing the number of specimens analyzed during biodiversity surveys through the implementation of a liberal sorting strategy that is not reliant on morphospecies exposed additional diversity that was not originally appreciated by collectors based strictly on external morphological characteristics. This points to why DNA barcoding represents an excellent avenue with which to conduct biodiversity surveys of small-bodied organisms. Finally, strategies with an ostracod-specific or microcrustacean-focused collection mandate were more efficient than whole-community analyses at elucidating ostracod diversity on a per-site/time invested basis. Even with advanced molecular techniques, there should continue to be a balance when designing sampling programs.
Declarations
Acknowledgements
We are grateful for support provided by the International Polar Year and Discovery Grant programs of the Natural Sciences and Engineering Research Council of Canada (NSERC) to SJA and to P. Hebert, as well as for support provided by the Government of Canada through Genome Canada and the Ontario Genomics Institute to the International Barcode of Life Project. We also thank the Ontario Ministry of Economic Development and Innovation for funding the ongoing development of BOLD, which was essential for data management and analysis for this project. We thank staff at the Canadian Centre for DNA Barcoding at the University of Guelph for specimen preparation and molecular analysis. We are grateful to D. Steinke and S. Prosser for providing primer sequences. The staff at the Churchill Northern Studies Centre (CNSC) provided valuable logistical support throughout this endeavour as well as financial support through their Northern Research Fund. AKW and EEB received further support from the Northern Scientific Training Program of the Department of Indian Affairs and Northern Development (DIAND) federal agency of Canada. We thank J. Witt and P. Hebert for mentoring and guidance in the field. We also thank E. Noel, J. Wang, M. Young, K. Layton, and E. Chambers, for assistance in the field. Finally, we thank J. Sones, G. Martin, S. Eagle, N. Serrao, R. Hanner, and A. Smith for assistance in successful barcoding. Eight reviewers provided comments that greatly improved the manuscript.
Authors' Affiliations
(1)
Faculty of Environmental Studies, York University, Toronto, Canada
(2)
Department of Biology, McGill University, Montréal, Canada
(3)
Department of Integrative Biology, University of Guelph, Guelph, Canada
(4)
Biodiversity Institute of Ontario, University of Guelph, Guelph, Canada
Copyright
© Laforest et al.; licensee BioMed Central Ltd. 2013
This article is published under license to BioMed Central Ltd. This is an Open Access article distributed under the terms of the Creative Commons Attribution License (http://creativecommons.org/licenses/by/2.0), which permits unrestricted use, distribution, and reproduction in any medium, provided the original work is properly cited.